admin
admin's Latest Posts
There is something special about going for a walk together. The fresh air, pleasant surroundings, relaxed conversation, and gentle exercise somehow combine to make it one of our very favourite activities. Happily, it is also one of the very easiest steps we can take towards building a healthy and inclusive community.
The Spirit of St Patrick Award recognises and honours those who have offered significant service and contribution to the building of healthy, inclusive community in their local area.
Sponsored by the St Patrick Foundation, the Spirit of Saint Patrick Award, is awarded on the basis of community nominations and is presented both at Saint Patrick Breakfasts and at local St Patrick's Day parades.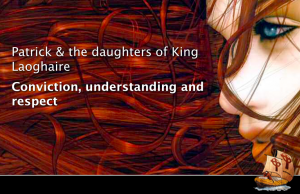 St Patrick Breakfast Address, Maynooth 2014 BY FERGUS RYAN. It's the late 1970s and you're in San Francisco on St Patrick's Day, so it's perhaps no surprise when you turn on your radio to hear the talk show host interviewing an Aer Lingus hostess, who is representing Ireland and telling the world its ancient story. […]
The Imperial War Museum (North) is about two miles outside Manchester City centre and just a stroll from Old Trafford. It is well worth a visit if you are ever over at United-land. The facility was designed by Daniel Libeskind, the Jewish American architect who designed the Jewish Museum in Berlin and, in 2003, won […]